Fun, Unique Birthday Cake Ideas
Create a memorable birthday party by using a unique birthday cake idea for the party's centerpiece. For generations, traditional cakes were perfect for birthday celebrations. Today, however, unique cakes are all the rage, especially those that complement the party's theme.
Unique birthday cakes come in a variety of flavors, styles, sizes and shapes, and more often than not, is different than anything else out there. This gallery of unique birthday cake ideas showcases a few of the one-of-a-kind cake ideas available.
Pretty as a Present
The gift of a birthday cake is not uncommon. If you know how to make these tasty treats, consider making one wrapped as a present or order one made by a professional cake decorator.
Whimsical Birthday Fun
Whether it's a first birthday or a 50th birthday, this amazingly unique cake combines several decorating techniques and colors to create a one-of-a-kind confection.
Sitting Pretty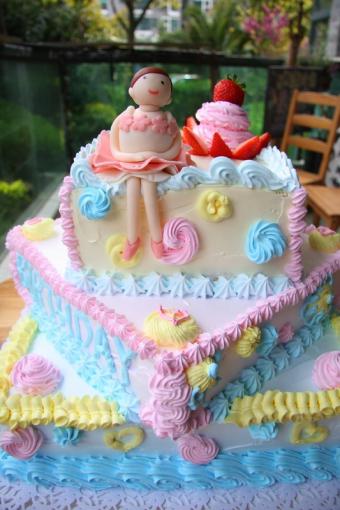 What little girl wouldn't love this buttercream frosted birthday cake? The pretty pastels coupled with the fondant ballerina is perfect for any party.
Very Unique Birthday Cake Idea
Unique birthday cakes don't have to resemble something concrete. This cake showcases bright colors and fun designs, which for most kids -- and some adults -- is enough.
Out of This World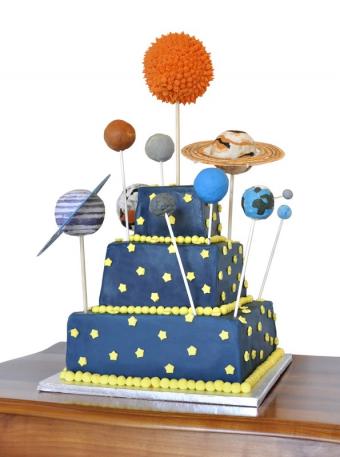 Your little astronomer will love this outer space birthday case, complete with stars, planets and the sun.
Elegant Birthday Cakes
Birthday cakes don't have to be full of bright colors or crazy designs. Instead, serve a novel cake that is also elegant. The swirls of cocoa powder on this mocha cake, combined with the elegant chocolate pieces and strawberries, make a stunning statement for anyone's birthday.
Chocolate Lover's Cake
If it smells like a chocolate lover's cake, then for sure, it is one. Who can resist this confection covered in buttercream frosting and chocolate shavings? Easy to make and even easier to eat!
Cute as a Bug
Cakes shaped as bugs or other animals are very popular at children's birthday parties. For a youngster's first birthday, consider this smiling lady bug cake.
Cake to Feed a Crowd
Large birthday guest lists call for large birthday cakes. Make a stacked tiered cake for extra special celebrations, like a baby's first birthday, a milestone teen birthday, or even an over-the-hill birthday. Decorate each layer to coordinate with the next. Top it all off with a large fondant bow.
Send in the Clown
A carnival birthday party wouldn't be complete without this unique clown cake. Easily made with simple fondant cut-outs, this treat would satisfy even the youngest of party-goers. For more festive and unique birthday cake ideas, check out these slideshows: