Patriotic Cakes Celebrate America
These pictures of patriotic cakes give you a few ideas of some of the treats you can make for an upcoming Memorial Day or Fourth of July picnic or party. Nothing says "I Love the USA" more than a homemade, star-spangled cake. This round cake has red and white fondant stripes and buttercream stars.
Patriotic Picnic Classic
You can't go to a patriotic holiday party without the traditional flag cake decorated with fresh berries. Halved strawberries and whole blueberries garnish this white buttercream or whipped cream frosted rectangular cake.
Healthy Alternative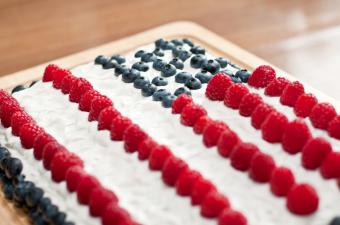 Another spin on a classic flag cake is to decorate it with raspberries, instead of strawberries, and blueberries.
Feeding a Crowd
If you are feeding a large number of people at your party, consider a sheet cake topped with paper American flags. It's easy to slice and serve.
Celebrating Old Glory
A white buttercream frosted sheet cake can be quickly transformed into an American flag with some red and blue gel or frosting. You can dab on some white buttercream for the stars or be creative and use white chocolate chips.
Making Extraordinary Out of the Ordinary
Liven up an ordinary store-brought cake with red and blue gel for this flag's stars and stripes.
Patriotic Cupcakes
If you would rather make cupcakes for your holiday picnic or party, try dabbing some red, white and blue frosting on top of a chocolate cupcake. Easy to make, and cleanup is a breeze!
A Torte Above the Rest
This layered torte is another great alternative to the traditional patriotic cake. Layer a plain cake with white frosting or whipped cream and top with berries. For more pictures of patriotic cakes, check out these 4th of July designs.