Pretty Valentine's Day Designs
Valentine cupcakes are the perfect treats for anyone who is sweet in your life. Bake and decorate them for your significant other, office friends, neighbors or even your child's class party at school.
This pretty cupcake is simple yet sweet. A light drizzle of glaze and a few candies dress it up. Finish off the design by adding a matching pink ribbon around the cupcake holder at the base.
Chocolate Heart Toppers
A thin, pink chocolate heart is a tasty topper. Ice this cupcake by placing a large round tip into a decorating bag filled with white buttercream frosting. Start in the center of the cupcake and make a large mound of icing. You may want to flatten a bit on the top with a cake knife. Next, start in the center of the first mound and add a second, smaller mound. Finish by adding pink sugar crystals around the outside bottom edge of the frosting.
Top the frosting with a pink-colored white chocolate candy heart that was purchased at a local craft supply store or made at home using a mold. Use additional melted chocolate or pink royal icing to add swirls to the heart using a small round tip and pastry bag.
Puppy Love
Show your sweetheart that you're still in puppy love by creating a whimsical puppy cupcake. Mold the puppy out of marshmallow fondant icing, using white for the body, black for the ears and accents, and red for the heart. Add a thin layer of pink buttercream frosting to the top of the cupcake and cover with pink, white, and red sprinkles and sugar. Add the puppy to the center, securing with a dab of icing to his underside.
Sweet Sayings
Sometimes a simple cupcake is best, and smooth icing topped with loving words is easy and quick to decorate. Make the chocolate glaze by mixing about a cup of melted semi-sweet chocolate chips, three tablespoons of butter, three tablespoons of corn syrup and two teaspoons of water. Once melted and mixed together, pour over the cupcake. Allow to harden and then use thinned buttercream icing and a round decorating tip to write the word "love" or any other romantic word you desire.
Richly Red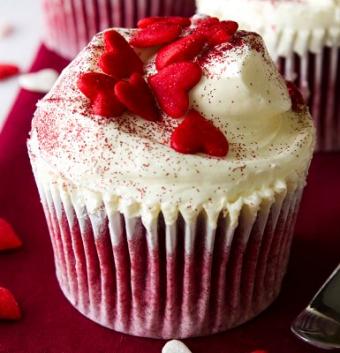 Red velvet cupcakes are deliciously decadent for Valentine's Day. The red cake gives the treat instant decoration, and thick icing and a variety of coordinating red sprinkles complete the easy decorating.
Frost the cupcake with cream cheese frosting. Sprinkle the top either with dark red sugar sprinkles or a bit of the dry red velvet cake mix. Finish with Red Hots hearts. If you cannot locate Red Hots hearts, you can substitute any red candy heart or gummy heart.
Romantic, Flavorful Decorations
The flavors of a Valentine cupcake can be enhanced with decorations. Chocolate cupcakes are popular for this holiday, and topping the treat with a raspberry or strawberry adds a hint of sweetness in addition to making decorating easy.
To create this look, use a large star decorating tip and place a mound of vanilla buttercream icing on the top of the cupcake. Add a single red raspberry to the top.
Fondant Cut Outs
Fondant icing is easy to use for decorating cupcakes. Tint rolled fondant different shades of pink, red, and white and cut out heart shapes of different sizes. Layer the hearts on top of thinly iced cupcakes for an elegant and coordinated design without predictability.
It is important to use a buttercream frosting for the first layer of icing to secure the fondant since they are cut outs. You should also add a dab of the buttercream frosting between each layer of fondant cut outs so they don't slide off the top, but are "glued" down.
Rose Cupcakes
Roses are by far the most popular flower for Valentine's Day, and red rose cupcakes are a sweetly edible option. To recreate these mini-cupcakes, add a mound of buttercream frosting with a large star tip to the tops. Next, use a leaf tip and dark green icing to create three leaves that fan out to the edges of the cupcake. Finally, use a rose tip and start creating the rose in the center of the cupcake, making the petals larger as you work out. Be sure to leave a bit of room around the edges so the leaves show.
Alternatively, create the roses ahead of time by using buttercream or royal icing and a flower nail.
Heart Shaped Cupcakes
Silicone cupcake molds are available to help you bake cupcakes in heart shapes, and that simple design does not require any extra decoration. Tie a ribbon around the cake before presenting it to someone special. This is perfect for healthy cupcakes and muffins that still have a sweet touch.
Stencil Designs
For a modern Valentine decoration, place a heart stencil on top of a cupcake and dust with powdered sugar around the outside of the heart. No icing is used. This is a great choice for a healthier cupcake, light flavors, or holiday muffins. This technique works best with dark cupcakes, such as chocolate or red velvet.
Alternative Color Options
Valentine's Day cupcakes don't have to be decorated in red, pink, or white. Heart shapes and sprinkles can be found in any color of the rainbow, and using your sweetheart's favorite color instead of predictable holiday shades is a gesture as sweet as the cupcake you give.
To achieve this soft look, use a cream cheese frosting. Place a mound of frosting on the top of the cupcake. Use purple sugar crystals around the outside edge of the icing. In the center, use a smooth basketweave decorating tip and create simple heart with two loops using frosting in a pastel purple.
Airbrushed Elegance
If you don't have time to decorate Valentine cupcakes as elaborately as you would like, consider using airbrushing techniques. Colors are even available in cans with nozzles, allowing you to skip the expensive equipment. Don't worry if the application isn't even, as the multi-shade swirls add a pretty and elegant look. Top each one with sprinkles, candy, or themed toppers with hearts, cupids, or other Valentine's Day motifs. If you're in a real rush, you can pick up some simple airbrushed cupcakes from the store and add your own toppers.
Lovebirds Cupcake
Shape a pair of doves out of white modeling chocolate or gum paste to top your cupcake. Your own lovebird is sure to smile when s/he sees the effort you put into making dessert. Shape the doves a day or two prior to the holiday so they have time to harden. Use edible markers to create features once the doves are dry.
To assemble, top the center of the cupcake with a pink fondant heart. Secure the heart to the top of the cupcake with a dab of icing. Next, tie a small red bow with ribbon or a strand of red licorice and secure with icing at the point of the heart. Finally, add your molded doves to the top of the heart using icing to secure them.
Sweet as Candy Cupcake
Create a cupcake that looks like it came straight from the candy shop. Skip the wrapper and use colored frosting and sugar to create a cupcake that is oh-so-sweet!
Add a mound of icing to the top of the cupcake, shaping into a rounded dome with a small spatula. Dip the top into red sprinkles. Add little dabs of icing and swirls after the sprinkles are set. On the top of the sprinkle-coated mound, add a small dab of white frosting and then use red buttercream icing and a small round tip to create a heart shape on the outer edges of the small dab. Finish by spritzing the undecorated bottom of the cupcake with a spray bottle of water and dipping in green sugar sprinkles.
If desired, make stripes on the bottom by using a food safe paintbrush with water and spacing thick lines evenly around the cupcake, leaving the space between them dry. Dip in dark green color sugar sprinkles and wait for the sprinkles to adhere. Then fill in the empty spaces with brushed water and carefully add light green sugar sprinkles. A little overlap is okay and will add to the cupcake's charm.
Fast Topper Options
Even those new to cake decorating can still create a delicious looking cupcake with ease. Use a large swirl tip to create the base for a cupcake topper that can be found at a variety of stores near the holiday. Create the red and white look by filling part of the decorating bag with red buttercream and the other half with white. Be sure to divide halves vertically so both colors come out at once.
Valentine cupcakes are a great way to show anyone you care, so bake and decorate a batch with love.