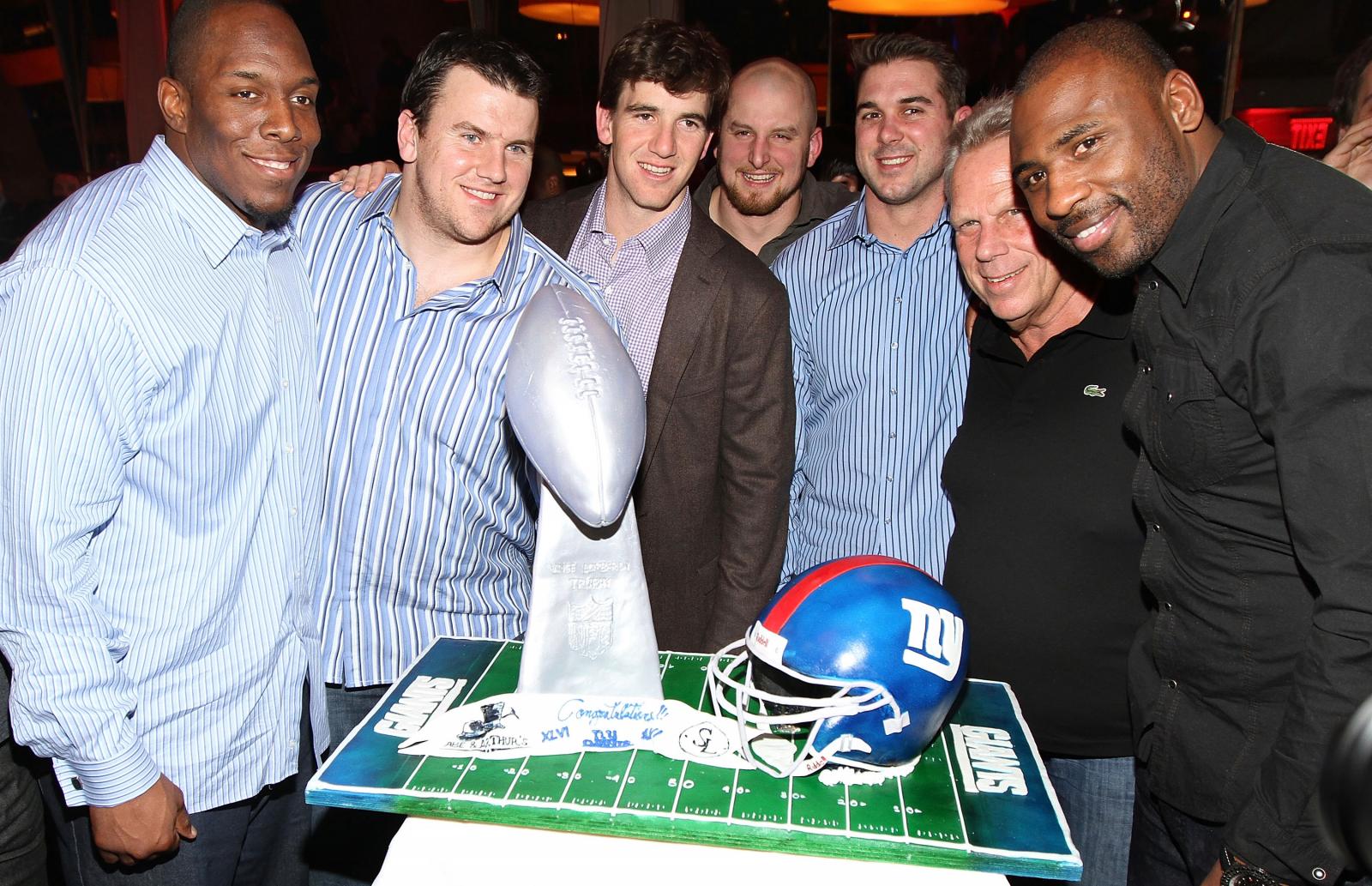 Host a Super Bowl party with a cake that puts up some points in your favor. If you're a fan, highlight one of the two teams playing or just go with a more general theme for the NFL in general.
Team Trophy Cake
While you won't know the outcome of the game until it's over, you can still make a sheet cake that features the trophy in the hopes it will encourage their success. You'll need to have some skills to replicate this Super Bowl XLVI cake featuring the New York Giants, but it will be sure to be a crowd pleaser!
Follow these basic instructions:
Start by preparing a large cake board to resemble the football field. Set aside.
Bake a cake in a football-shaped pan. Allow it to cool, then cover in gray rolled fondant. Be sure you cut out pieces for the laces and make an indentation for the seam lines. Set aside.
To create the trophy, use crispy rice cereal bars to form a solid base. Cut out the shape and cover in gray fondant. Use a fondant knife to design the NFL emblem and add wording.
Push wooden dowels into the top of the trophy base; use at least three for stability.
Carefully place the football on top of the trophy base.
Airbrush the cake with silver to create the winning team theme.
Depending on the number of people you need to feed, you may want to make a helmet cake to go with the trophy.
Carve the helmet out of stacked round cakes in the size desired. You'll want to use a sturdy recipe for this and carve conservatively; you can always take more off.
Finish the helmet by covering in fondant to match the team you want to win. Be sure to include their emblem as well.
NFL Themed Cake
If your favorite teams aren't in this year's Super Bowl, you can go with a general NFL themed cake. This brightly colored layer cake is the perfect Super Bowl Party food.
You'll be able to put your own spin on the cake, but get started with these easy instructions:
Cover your cake base and top in dark blue fondant.
Cover the second to bottom and second to top layers in gray fondant and add edible glitter all over it.
Cover the middle top layer in red fondant.
Carefully stack the five layers together, using dowels and cake boards, to help support the cake.
Add white ribbon (or white fondant strips) to the bottom, middle, and top tiers.
Accent the glitter layers with an edible NFL emblem. The emblem could be a decorated cookie, an edible printed image, or even made out of gum paste or fondant.
Finish by adding large food-safe gemstones and embellishments around the cake.
Combine the Super Bowl With Other Themes
If the Super Bowl happens to fall on another important day, such as a birthday or anniversary, or you are hosting the football party on behalf of a company or community group, you might want to combine the two themes into one cake. This BET Super Bowl Gospel Celebration cake incorporates the tv network with the Super Bowl.
Follow these tips to do the same with your secondary theme:
Feature the Super Bowl at the top and bottom so everyone sees the reason for the party or event. It's helpful to add the year as well.
Incorporate team logos or helmets; you can use cookies or cut them out of fondant.
Add your company or organization name and logo with the party's name in block lettering.
Include edible printed images or small figurines that represent the organization's goals (or a birthday or anniversary).
Use NFL colors (white, red, blue) or the team colors for most of the cake rather than competing with multiple color options.
More Super Bowl Cake Ideas
Plenty of ideas are out there for your Super Bowl themed cake. For example:
A football cake shaped like a football or a sheet cake representing a field are both easy for novice decorators. You can also pipe buttercream stars on top of a cake in the shape of a football on a grassy field.
Use a jersey cake pan to turn a t-shirt shape into your favorite player's jersey with number featured front and center.
Cut a large megaphone out of a sheet cake and decorate with your team's colors. Add fondant letters that say "Go TEAM!" with your team's name.
Football Fan Food
It doesn't matter whether you're a football expert when it comes to the Super Bowl. Everyone enjoys getting together for the friendship, fun, and of course, the food! These cakes are sure to top off the night no matter who scores the winning touchdown.