Hosting a housewarming party means you'll need to arrange for a lovely cake to welcome friends or family to their new neighborhood. A simple design takes little time and allows you to focus on the new homeowners!
Home Sweet Home Message Cakes
A cake with a simple message like "Home Sweet Home" conveys your warm feelings without needing a lot of work. You can use a stencil, cake pattern, or handwrite the message.
Stencil Design
A rich chocolate cake doesn't need frosting, so use stencils and powdered sugar to create your message. Carefully lift the stencils off so your wording is not smudged. If you frost the cake with a white or cream-colored buttercream, you can use colored sugar to create a bright design.
Gel Writing Design
Handwriting your message on the cake offers a personal touch that your friends are sure to appreciate. It's also quite simple.
For this option, with a simple round layer cake in your choice of flavors. To decorate:
Frost the cake using buttercream or cream cheese frosting.
Use crumbled cake pieces to cover the sides, saving you the time and trouble of smoothing the icing.
Use a gel writing pen to write "Home Sweet Home" in your best script. Choose a color that reflects the cake or the house.
House Cake Designs
Creating a house out of cake doesn't need to require a lot of carving work or decorating skill.
Traditional House
A traditional two-story house cake can use tinted fondant to reflect the new home's exterior paint color.
Stack three cake layers together with your favorite filling in the middle. Carve the top layer into a triangular shape for the roof. To decorate:
Start by tinting fondant in your choice of color, like sage green.
Cover the cake, smoothing the sides as you go.
Use white royal icing to draw windows and doors.
Use chocolate rod cookies, chocolate covered pretzels, or rolled chocolate fondant to create the roof slats. Additional royal icing can secure them to the fondant.
Cottage Candy House
A small cake made to resemble a cottage using some candy accents is reminiscent of gingerbread houses.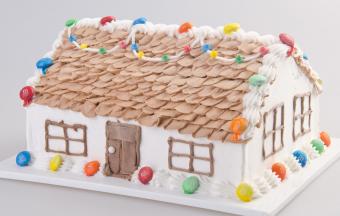 Stack two small rectangular cakes together and carve the top into a low slope. Cover it in white (or tinted) buttercream frosting. To decorate:
Use a petal tip to create the roof shingles in chocolate buttercream, layering them slightly over each other; you'll need to start at the bottom of the roof and work your way to the top.
Use a star tip paired with additional white buttercream to outline the roof peak, sides, and border the bottom of the cake.
Use the petal tip and a round tip with chocolate buttercream to draw the windows and doors.
Create a small thin swag with dots of colored buttercream add interest to the roof.
Place evenly spaced candy-coated chocolates along the star borders to complete the design.
Additional Ideas and Tips for Housewarming Cakes
Use your imagination to create the right cake for the housewarming party. It doesn't have to feature an overt "home" theme to work for the celebration. Ideas and tips for making your cake include:
Use messages other than "Home Sweet Home." Ideas include "Welcome to the Neighborhood," "Hi, Neighbor!", and "Congrats on Your New Home!"
If the party is being held in the garden or around the pool, consider having the cake decorated with a swimming pool or icing flowers.
Cakes don't have to be layered. A sheet cake can be decorated to resemble a front door with a wreath or "Welcome" sign on the front.
Be sure you select the family's favorite cake, frosting, and filling flavors. After all, the whole reason for cake is their new house.
Make the homeowner's favorite cake instead of a traditional decorated cake. For example, if she or he likes angel food cake or Bundt cake, you can dress it up with berries, florals, and a nice sign.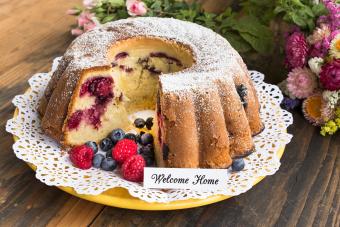 Welcome Home
Purchasing a first house or moving to a new home is a big event in a person or family's life. Welcome friends or family members to their new house with a celebratory cake! They're sure to appreciate your effort and thoughtfulness.