Dazzle your fellow movie lovers by crafting a cake that reflects star-studded Hollywood. Whether it's for a movie premier or a birthday, one of these ideas is sure to be a showstopper!
Theater Marquee Cake
If you visit a particular movie theater frequently, why not reflect that in a Hollywood cake design? After all, Hollywood is all about the movies! This cake is modeled after a dome-shaped theater. It features structural accents across the top in buttercream frosting, along with a large marquee representing the theater's name and highlighting a movie. Use a small round tip to make the outline for the marquee and then fill in with the appropriate colors, using a spatula to spread and smooth the buttercream. Pipe the lettering carefully; consider using a toothpick to sketch the letters before adding the icing. Blue buttercream and black outlines represent the entrance.
Hollywood Sign Cake
The Hollywood sign is iconic. A large rectangular sheet cake forms the base for the hills, which don't have to be carved perfectly to look good. Use green buttercream for the base and varying shades of brown and green for the hills and foliage. Cut the letters for the sign out of white fondant or gum paste. Toothpicks can help affix them in place. Write your message in buttercream and use a food-safe paintbrush to color the lettering gold with black accents. Add several fondant stars covered in gold luster dust to accent the cake.
Fabulous Film Reel Cake
Hosting a Hollywood movie night means you can theme your cake around one actor, genre, or movie. A large round cake forms the base of this design, which celebrates Dennis Hopper and Easy Rider, though you can modify this idea for any of your favorite films or actors. The cake is covered in gray rolled fondant to look like a film reel case and has white fondant stars around the side. A clapperboard and film reel are crafted from black fondant. Use printed edible images for the film scenes coming from the case.
Hollywood Star Cake
Make your friend or family member's birthday or anniversary worthy of a Hollywood star with this design. Bake a large star-shaped cake. Cover it in yellow fondant and cover with gold luster dust. Add thin fondant strips around the edges in a deeper shade of gold. Add small white dots of buttercream across the entire cake. Cut a movie projector shape out of the fondant and add to the center of the star. Roll thin pieces of the deep gold fondant to make the name of the person who is being celebrated. Use a little red buttercream to create the rest of the message for the occasion.
Oscar Party Cakes
Nothing says Hollywood like winning an award. Find inspiration for your Oscar party with these cakes.
Staircase Design
This design starts before you begin frosting the cakes. Start by using a serrated knife to cut the tops of different size round layer cakes unevenly, creating a circular staircase effect. Frost them in ivory buttercream and use a large spatula to make vertical indents along the sides. Craft small Oscar statues out of marzipan or purchase cake toppers from a party supply store. Place each one at the center of each indent so they are space evenly. Top with a larger statue. If you're feeling adventurous, surround the cake topper with sparklers for a truly spectacular presentation.
Statue Design
A large carved cake is no easy undertaking, but the results can be award-winning. Scale back this big design and use a two or four layer large sheet cake to carve your statue. As you carve, keep the discarded cake; if you make a mistake and take too much off in one spot, you can mix the cake with a little buttercream and try to attach back onto the cake. Cover it with a sheet of rolled fondant and carefully shape to create the features and details of the statue. Airbrush the entire cake in gold.
Movie Projector Cake
A cake doesn't need to be huge to look great and represent Hollywood. Instead, use crispy rice treats to shape a topper that represents the glam life. This design features an old-fashioned movie projector on top of a traditional round layer cake. For continuity, the topper is covered with the same color of white fondant as the cake and the ribbon color is repeated as the background for the message.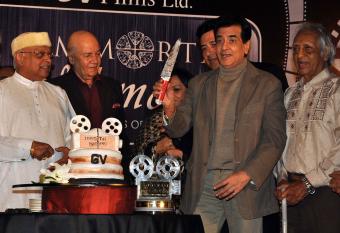 Easy Buttercream Film Sheet Cake
A Hollywood cake doesn't need to be difficult to be festive. Take a traditional white buttercream cake. Add a black slanted block border just inside the star tip border. A large black fondant star, clapperboard, and sign cake toppers are placed along the top. Add your message to the center of the border. Pick up some food-safe confetti in the shape of movie reels and projectors and sprinkle across the top.
Hollywood Glitz
Bring home a taste of Hollywood glitz with these fabulous cake ideas. Tailor your design(s) to your favorite show, film, actor, or place in Hollywood and you're sure to win everyone's "best dessert" award.