Drool will be dripping off everyone's chin when you present them with a delectable chocolate cake. These cakes are not only delicious but easy to decorate too.
Chocolate Basket Weave Bow Cake
A beautiful bow tops this cake that makes it perfect for a birthday. Make the bow out of modeling chocolate at least one day before you need to place it on the cake. Once your cake has cooled and you've applied a crumb coat, cover the sides with a generous portion of chocolate buttercream. Use a cake edger to smooth excess away from the cake and add a subtle design. Cover the top of the cake with a basket weave cake decorating technique. Allow it to set up and then top with your modeling chocolate bow.
Black Forest Cake
Chocolate and cherries are a classic combo sure to make everyone's mouth water. This chocolate cake is frosted with a whipped chocolate frosting. Add chocolate shavings and curls to the side in a random pattern. It's topped with dollops of additional frostings from a large star tipped pastry bag. A maraschino cherry tops every other dollop with a small brownie completing the decorations. Place a ring of candles in the center for the birthday boy or girl.
Chocolate Lover's Cake
The only thing better than a chocolate birthday cake is a chocolate birthday cake topped with more chocolate! Frost your cake with chocolate buttercream, then pour tinted royal icing over the top. Cut and crush chocolate candy bars, chocolate sandwich cookies, chocolate candies, pretzels, caramels, and more to top the cake. Add a few candles just before serving and you're done.
Rosette Birthday Cake
Rosettes add an elegant touch to any chocolate birthday cake. After crumb coating your cake, add a large open star tip to a pastry bag. Fill it with chocolate frosting. Start at the bottom of your cake and pipe the star; don't release the bag, but instead continue piping as you circle the star once. Then release the bag. Continue around the entire cake, making sure you place the rosettes close together. Add a small birthday banner to the top of the cake that can have the person's name or age added.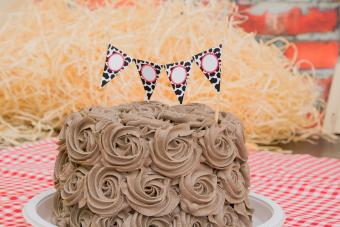 Sparkling Celebration Cake
Nothing says "celebrate!" quite like a cake featuring sparklers! Since they are the star of the dessert, you'll want to keep the rest of the decorations simple. Cover your cake with chocolate fondant. Then use milk and white chocolate candy stars to cover the sides of the cake. Royal icing will help hold them on the cake. Write "celebrate" in white royal icing on the top of the cake and surround it with silver dragees. Add the sparklers just before serving and then light them once you've presented the cake to the birthday celebrant.
Birthday Message Cake
A simple cake can get your "Happy Birthday" message across without taking a lot of time. The poured chocolate ganache makes a delicious, almost fudge-like look to the cake. While you wait for the ganache to set, make small fondant cut-out flowers. Place these along the side of the cake with the birthday message in your fanciest handwriting next to them. For an additional elegant touch, add a couple abstract pieces of chocolate (consider breaking a bar and using large pieces) between chocolate rosettes.
Elegant Gold Layer Chocolate Cake
A two layer chocolate cake doesn't need to be difficult to frost. Instead, frost and stack two cakes. Tint fondant gold and roll it out until it's less than 1/4" thick. If desired, dust a little gold pearl or luster dust on top of the fondant. Use a small circle, like the end of a straw, to cut out small dots. Press them along the bottom of both cake layers about a third to half way up each. Top the cake with gold candles to match the dots.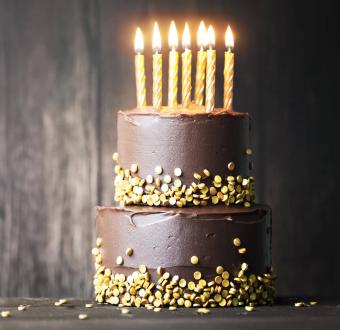 Decadent Chocolate Designs
A chocolate-frosted chocolate cake is a decadent indulgence perfect for celebrating a birthday. Whether you decide to serve a more elegant gourmet cake or something festive and fun, these designs are sure to please everyone's palates and eyes!