Delicious Fruit Cake Decorations
Buttercream flowers, fondant cut-outs and modeling chocolate figures all make great cake decorations, but for some cakes, delicious fruit is the best option. Fruit gives any cake a fresh taste and look. It also pairs well with many cake flavors and lends a lighter flavor than some of the heavier frosting decorations.
Fanned Fruit Slices
One of the best ways to decorate a cake is to use fruit slices in various fan shapes. Sliced stawberries and kiwis easily lend themeslves to this decorating scheme. Slices of citrus fruits can also be fanned for a pretty touch.
Classic Cherries
Cherries are the perfect topper for many desserts. They are a pretty red tone with a shiny skin. Add some cherries to the edge of a chocolate cake for a pretty contrast to the dark frosting or to indicate that the cake is traditional black forest flavor.
Cascading Fruit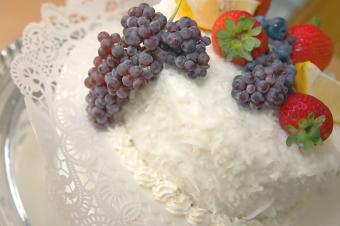 A fruit cascade is a fresh alternative to a traditional flower cascade down the side of a single or multi-tiered cake. Grapes are a natural choice, but strawberries, blueberries, raspberries and blackberries are also popular. Even heavier fruit, like apples, pears and oranges, can be worked into a design with the proper support system.
Accent Fruit with Frosting
Adding some frosting accents to a cake with fruit decorations can take it to a new level. Rather than simply using fruit or frosting for decorations, combining the two creates a unique look for the top of a cake.
Showcase Fruit Fillings
If you plan to serve a cake with a pretty fruit filling, skip the frosting coat and arrange the fruit between layers so that it is meant to be seen. If you wish, drizzle with a little royal icing or chocolate ganace for a pretty display.
Beautiful Fruit Designs
Fruit slices, such as those from peaches or even strawberries, can be arranged on the top of a cake in the shape of a flower or other design. Imitating a rose or simple five petal flower adds an air of elegance to a cake.
Fruity Special Occasion Cakes
Just because a cake is for a wedding, anniversary or milestone birthday doesn't mean it can't use fruit in the design. Small fruits such as raspberries and blackberries look pretty against a white fondant or buttercream frosted cake. The pop of color adds an unexpected element that really stands out.
Zesty Cakes
A cake doesn't need to feature the entire piece of fruit or even a slice of fruit. Lemon, lime and orange zest on top of a cake adds some color without going overboard.
Themed Dessert Displays
A cake is often the centerpiece of a dessert bar or buffet. Create a themed buffet around one or two fruits and use them in cookies, tarts, cheesecakes and more that will all go together on a beautiful tablescape.
Edible cake toppers like fruit are the perfect choice for any cake - whether it's just for fun or for a special occasion. Switch things up from a trational buttercream or fondant cake design by using your favorite fruits.