Before you begin a cake, it is essential that you purchase cake decorating supplies necessary to making the particular cake design. Beginners usually need to buy several items to start; once more advanced, decorators might only need to supplement their current supplies with one or two items.
Choosing Decorating Supplies
If you plan to decorate several cakes, it may be worth your time and money to purchase some of the basics found in most decorators' kitchens. Frosting spatulas, couplers, and pastry bags are in most decorators' cabinets. Choose tips based upon the cake decorating instructions for the particular design you want to make.
Quality Considerations
Quality supplies are essential if you plan to do more than make the occasional cake. However, if you are doing an unusual design that calls for a specialty tool that only accomplishes that particular element, you might want to consider buying a cheaper option. For example, purchasing high-quality tips are a good investment, but you can make your own pastry bags using parchment paper to decorate small areas, rather than using store-bought bags.
Brands to Buy
Look for brands with a good reputation in the cake and baking industry. Two well-known supply companies are Wilton and Ateco. Both companies offer supplies at various merchants and retailers. Get recommendations for other quality brands from other bakers in online forums or through experts at your local bakery or supply store.
Where to Buy Decorating Supplies
Look for cake decorating supplies wherever you purchasing baking ingredients. Places to look include: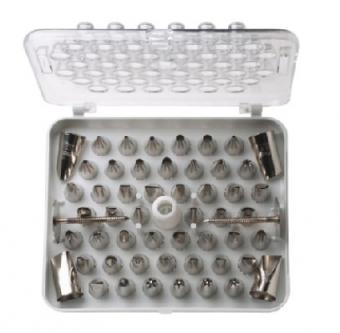 Discount Supplies
Supplies can add up in cost over time. These retailers can help you find what you're looking for at a more reasonable price.
Helpful Purchasing Hints
While it may seem like the easiest part of the decorating process, when you purchase cake decorating supplies, you want to be sure that you are getting the best deal and quality. Follow these hints to make the most of your decorating purchases:
Look for coupons in the Sunday paper for local craft stores and kitchen supply stores to get a discount on products.
If you have a friend who likes to decorate, share expensive, rarely used supplies.
Once you begin amassing a collection, keep a list of supplies you all ready own. This will help you avoid duplicating items that have worked their way to the back of your cabinet.
Consider getting organizational supplies, too. A cake decorating caddy might seem excessive when you first start out, but many bakers find them useful when they have a large amount of supplies to store.
Sign up for newsletters online, through supply stores and brands. You will find out about the newest products and techniques without any effort. Additionally, you may receive a discount code or two for use on your next purchase.
Once you discover a particular product you like, consider looking for cake decorating supplies wholesale. You may be able to buy the product in bulk and save additional money; some companies might even have an auto-ship program to make sure you never run out of a particular ingredient.
Start Decorating
The purchase of your supplies, whether online or in a store, is one that you want to take seriously, especially if you are just starting out or just starting a decorating business. Save money on rarely used items but make sure you look for discounts on quality items.