Fun Pictures of Summer Cakes
Perusing pictures of summer cakes and cupcakes will give you a great idea of how to create your own, whether it's for a birthday, graduation or other special occasion. Summer cakes and cupcakes share a few common bonds -- they are bright, colorful and for the most part, have summer fruit or flowers incorporated into them. Need to show off the season's finest, right?
These cute flower cupcakes are perfect for a girl's birthday party or afternoon tea. Green tinted buttercream frosting is piped for the grass and then topped with gum paste or fondant flowers.
A Little on the Top
These mini cupcakes are the perfect portion for an afternoon or Sunday dessert. Simply top each one with some fresh whipped cream and a raspberry or other berry of your choice.
Happy Birthday, America!
Celebrate the Fourth of July with this homemade cake. Top a 9x11 inch cake with whipped cream or white buttercream frosting. Add 50 (or however many fits) blueberries for the stars and strawberries for stripes.
A Berry Good Celebration
Another take on July 4th cake would be to top any size round cake with white buttercream frosting and coconut. Creatively decorate the rest with blueberries and raspberries for that patriotic color design.
A Cake Everybuggy Loves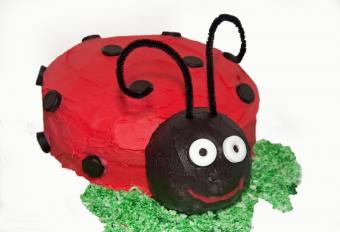 Create this wonderful ladybug cake for your daughter's birthday or just because! Tint some frosting and cover a double layer round cake. Trim and frost a large cupcake for the ladybug's face. Add decorative candies and pipe cleaners and your bug is ready to be loved!
Sunny Delight
Sunflower cupcakes are just the right size for young gardeners looking for a tasty treat to eat on a hot afternoon. Pipe some yellow and brown buttercream frosting atop some green leaves and your flowers are ready to be picked.
Butterflies Everywhere!
Party stores or your local dollar store may have some non-edible flowers and butterflies to adorn your summertime cake. The more the merrier; have enough so each guest can take a bug home with him or her.
Who Screams for Ice Cream?
There's nothing better on a hot summer day then an ice cream cake: It's part ice cream and part cake! A log cake like this can be purchased at a local ice cream shop. Be sure to eat this quickly before it melts.
Flowers for Your Birthday
Summertime flowers always look great on a seasonal cake. Roses especially make a simple birthday cake such as this very elegant. Make your own roses or use real or silk ones.
Summertime Wedding
For a summer wedding, fresh and in-season flowers are a cheaper -- and prettier -- alternative to piped flowers on a wedding cake. However, this cupcake gallery has some great ideas if you want something a little more fun for your next party that you couldn't find in these pictures of summer cakes.