Have you ever wondered how to make gum paste flowers? Read about the basic process, and then try it for yourself.
About Gum Paste
Gum paste is similar to fondant, but it is less flavorful. Still, there are definite advantages to using it for your flower making. After kneading the gum paste to make it more pliable, it can be rolled much thinner without tearing, and it dries hard to create durable decorations. You can begin making your decorations weeks ahead of time, and then store them in an airtight container until you're ready to assemble your cake. This can really cut down on the amount of time you spend decorating all at once, and you'll feel less fatigued once your cake is finished.
How to Make Gum Paste Flowers
Creating gum paste flowers is a lot like working with cut out cookie dough.
Preparation
Gum paste is basically dull white unless you plan to tint it with paste coloring prior to rolling and cutting. On the other hand, you may choose to dust it with petal powder after your flower has dried. Dusting is perhaps a better option if you have an artistic hand and want your flowers to look very life-like.
You'll need to dust a cutting surface with powdered sugar to keep the paste from sticking, and you should grease the edges of your fondant/gum paste cutters to prevent your paste from sticking to them and distorting your cut outs. You'll knead the dough to make it easier to work with, and then you'll roll it very thin in preparation for cutting.
Cutting and Refining
Most gum paste flowers have multiple parts that must be cut/formed and pieced together to create the final product. These commonly include:
Center - pollen anthers, etc.
Petals
Floral wire stem
Calyx
Leaves
Gum paste roses typically have:
A cone-shaped "bud" center
Wire stem
Rows of overlapping petals
A calyx, stem and leaves
Each cut piece is typically transferred to a foam pad where the edges are thinned and refined by running a ball tool around them. Sometimes you'll use a veining tool to make impressions on the leaves or petals so they look even more realistic.
Assembly
The way you assemble your flowers depends on the type of flower you are making. In most cases, you'll mount the flower center on a piece of floral wire, and then begin adding the petals and calyx by poking them in the center with the stem wire and sliding them up into place. Each section you add must be painted with gum paste glue, egg white or a similar food safe product on the spot where it will connect to the previous piece in order to secure the pieces together.
When adding leaves, you'll want to insert a piece of floral wire in the base that you'll eventually attach to the wire stem with floral tape. If your stems will remain exposed on the cake, you may even want to cover them with a thin layer of green gum paste for a very finished look.
Drying
All gum paste creations require drying time. Sometimes individual pieces (such as the inner cone of the rose or the pollen rod and outer petal of a calla lily) must dry before the rest of the flower can be cut and/or assembled. In other cases, you'll want to quickly assemble the various parts, and then set your blossom on a flower former or mount the wire stem in Styrofoam to allow the piece to dry.
Steaming
Whether you color your gum paste ahead of time, or color the flowers with petal dust or luster powder, you'll want to lightly steam your creations once they are completely dry. Steaming sets the powder color, provides a bit of shine and makes excess powdered sugar from the rolling process virtually disappear. You can easily steam your finished and dried flowers by briefly holding them over the vapors from a pan of boiling water. Let them dry off, and then they are ready for mounting on your cake. Be careful; your gum paste will soften if you steam the flowers too long.
Easy Calla Lily Instructions
You can use a teardrop or heart-shaped cutter to create lovely calla lilies. Make a cone from cardstock that you can use to help form your flower.Creating a center:
Color an approximately 1-inch ball of gum paste yellow.
Using your hands, roll it out into a rod shape that is slightly larger at one end. Round the tip of the thinner side, compare the rod to the size of your petal cutter, and cut it to half that length at the thicker end. Soften the cut end a bit with your finger tips, and carefully insert a floral wire up the center, beginning at the thicker end. Stick the wire in Styrofoam and let the center dry overnight.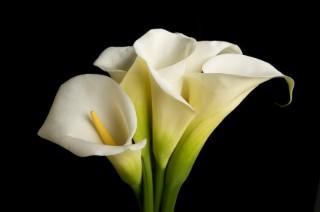 Creating the flower:
Roll your gum paste approximately 1/16 inch thick. Use either a calla cutter or heart cutter to cut out a petal. Make sure the edges are smooth.
Gently place the petal on a piece of foam, and use a ball tool to gently thin the edges. The ball goes half on the petal edge and half on the foam.
Next, wrap the petal around the end of your cardboard cone, taking care that the widest part of the petal is closest to the tip. If you're using a heart cutter, this would be the end with the rounded edges with the point facing downward. Use a little gum paste glue to secure the petal where the edges overlap.
Now, gently roll the edges outward to resemble a real calla lily. Allow the piece to dry for approximately 20 to 30 minutes until it is firm yet still slightly pliable.
Paint the bottom edge of your center rod with gum paste glue and insert the wire through the bottom center of the flower. Gently mold the bottom of the flower to the rod. Curve the end of the wire like a hook so you can hang the assembled flower upside-down. This will help keep the petal and rod together so they stick well as they finish drying.
Once your flower has completely dried, you can dry brush it with petal dust to make it look real. Use a real photo for inspiration.
Making a Hibiscus
Following the same basic technique for rolling and cutting:
Use a hibiscus cutter to cut out a single flower.
Use a smaller hibiscus cutter to create the center of the flower in a complimentary color.
Lay the small flower on top of the larger on a piece of foam. Use a ball tool to press the pieces together so they appear as one and smooth the outer petal edges.
You can also add a little more shape to the petals by running the ball up the center of each petal. You may even want to use a veining tool for added texture.
Use a floral wire to poke a tiny hole in the center of the flower, and place it on a flower former to dry.
Poke a pearl-tipped floral wire through the hole and secure it with a little gum paste glue. Allow to dry.
Watch a Demonstration
This video from CakeBaker.co.uk offers a clear and concise tutorial on making roses. The decorator substitutes her own hand while finishing the edges of her petals rather than using a foam pad, but the results are virtually the same. You'll notice that she keeps her excess gum paste wrapped in plastic, and she works very quickly so the pieces do not begin drying and cracking before she is finished cutting and assembling the flower.
---
It may seem as though there are many steps in how to make gum paste flowers, and in fact there are. However, once you've made a few flowers and gotten the hang of it, you'll find you can quickly create dozens of flowers to decorate incredible cakes that will look as though they came from a professional cake shop. Working with gum paste is an art, and it is one well worth learning if you want to take your decorating skills to a higher level.