Halloween Graveyard Cakes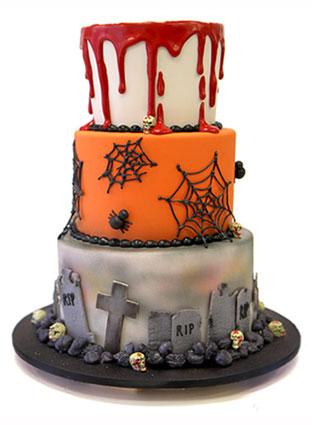 A graveyard cake creates a spooky scene that can often double as a table centerpiece or party showpiece due to the detailing. Choose one to wow your guests and delight kids of all kinds on Halloween.
Creepy Multi-Concept Cake
A graveyard makes an excellent base for this three-tiered cake.
Supplies
This cake will need three baked, cooled, and crumb-coated cakes in graduated sizes (for example, 6, 8, and 12 inches) before you start decorating.
Royal icing
Food dye
Airbrush gun and tools
Food-safe paintbrush
Skull candies
Pastry bag with couplers
Round tips
Parchment paper
Stacking supplies, like plates and dowels
Decoration Instructions
Make the Halloween cake decorations a day ahead of time so they have time to set.
Gravestones
Tint fondant gray and roll out to approximately 1/4 to 1/8 inch thickness. Don't worry if the fondant isn't smooth, as you want there to be some texture to the gravestones.
Use the gravestone cookie cutters to cut out the gravestones.
Put black-tinted royal icing into a pastry bag with coupler and a small round tip. Write RIP and other short epitaphs on stones.
Use the paintbrush and thinned black royal icing to create shading on the gravestones as needed.
Allow to air dry before adding to cake.
Spider Webs
Spread parchment paper over your work surface.
Fill a pastry bag with black royal icing and fit coupler with a small round tip.
Draw spider webs on the parchment paper, doubling the number you want, in case some break.
When dry, carefully peel off parchment paper before use.
Cake Instructions
Each tier of the cake has a distinct look that creates a cohesive theme once assembled.
Roll out white fondant and cover the largest tier and smallest tier. Set the smallest tier aside.
Using airbrush techniques, create a night scene in shades of gray, pink, and yellow on the sides and top of the largest tier. Set aside.
Tint fondant orange and roll out to approximately 1/4-inch thickness. Cover the medium sized tier.
Stack the three tiers together.
Tint buttercream frosting black and make small oval dots using the round tip around the base of the middle and top tiers.
Tint royal icing bright red and carefully spread on the top of the top tier, allowing it to drip artfully down the sides.
Go back to your black buttercream pastry bag and make the heads and bodies for spiders on the middle tier.
Use black royal icing to create the spider legs on the middle tier.
Carefully spread a little royal icing to the back of the spider webs using the paintbrush and affix them to the middle tier.
Use royal icing to affix the gravestone cut outs to the bottom of the bottom tier.
Add candy rocks and skulls to the bottom of your cake.
Traditional Graveyard Cake
A traditional graveyard cake doesn't have to be boring. Spice it up with a little stacking and some special decorations.
Supplies
1 large rectangular cake, cooled and crumb-coated
1 medium rectangular cake, cooled and crumb-coated
Cake boards and stacking supplies, like dowels
Fondant frosting
Buttercream frosting
Royal icing
Pretzel sticks
Black candy coating, melted
Pastry bags with couplers
Round tips
White chocolate Halloween shapes, optional
Instructions
Cover both cakes with 1/4-inch thick rolled fondant that has been tinted shades of green.
Dip pretzel sticks in melted black candy coating and allow to dry.
While pretzel sticks dry, roll black fondant out to 1/4-inch thickness and cut out tombstone shapes, either freehand or with cutters.
Use white royal icing to add decorations to the tombstones and set aside.
Stack the two cakes on top of one another, making sure the top one is well-supported.
Place the tombstones in the top of the cake.
Add a path using rock candies.
Place pretzel rods horizontally around the top cake's edge. Use leftover melted candy coating to affix rods horizontally, creating a fence.
Use green buttercream frosting and a large round tip to make the border around the bottom cake.
Add more rock candies and white chocolate Halloween shapes, like skulls and crossbones, to further accessorize the cake.
Ghostly Sophistication
A graveyard cake doesn't have to be scary to be spectacular. Add a few decorative flourishes to create a pretty cake for Halloween.
Supplies
1 round cake, cooled and crumb-coated
Orange fondant
White fondant
Gray fondant
Black buttercream frosting
Black royal icing
Food-safe wires
Pastry bags and couplers
Round tips
Shell tip
Cake stencil, optional
Toothpick, optional
Candy rocks, optional
Instructions
Roll gray fondant out to 1/4-inch thickness and cut out tombstone shapes. Add epitaphs as desired using black royal icing. Set aside.
Use white fondant to shape small ghost figures on food-safe wires. Use black royal icing to create their faces. Set aside.
Cover the cake in orange fondant, rolled out to approximately 1/4-inch thickness.
Add tombstone shapes to the bottom of the cake and top of the cake as desired, using royal icing to secure.
Use a medium sized round tip and black buttercream to create the rocks at the bottom of the tombstones on top of the cake.
Use black royal icing or black buttercream to design the fencing and bats on the bottom sides of the cake.
Use a toothpick to lightly trace a flourish design into the cake's side before going over it with black icing. Alternatively, place a cake stencil on the side of the cake and use it to create a flourish design above the tombstones.
Place ghosts on top of the cake.
Using the shell tip and black buttercream, add a border around the top edge of the cake.
Add a black border using a round or shell tip to the bottom of the cake; alternatively, you could also place candy rocks at the bottom.
Drop Dead Designs
A festive Halloween cake design doesn't need to send you to an early grave. Instead, come up with a few drop dead graveyard cake designs that will be sure to stand out at your next party.