Classic Halloween Cake
Choose from a wide range of Halloween cake designs, whether you're planning a party, baking for a Halloween birthday, or just want a special dessert to celebrate this spooky holiday. From the scary to the sophisticated, you can make your Halloween cake whatever you want it to be.
An easy decoration is to find a jack-o-lantern or other Halloween cake decorating kit and enhance it with seasonal sprinkles or coordinated cupcakes, but if you prefer a bigger cake decorating challenge, there are many other options to try.
Tiered Candy Cake
A large, tiered Halloween cake can use different types of candy in symmetrical patterns for a fun but still sophisticated look. Create different symbols along the sides of the cake, such as pumpkins, ghosts, and cobwebs, and use buttercream piping and swirls for even more sweetness.
Monster Cakes
Monster cake and cupcake designs are popular for Halloween. Buttercream rosettes can easily cover the whole cake's surface, or simply use piping to create the details of the monster's face. If you're decorating cupcakes, experiment with different icing colors and designs to create many different monster styles.
Pumpkin Bundt Cake
Two bundt cakes can be stacked to create a basic pumpkin shape, and an ice cream cone makes a quick stem. For a more elaborate cake, ice the bundt cakes with orange frosting and cover the cone with green. Add piping or black fondant patches to create a jack-o-lantern face.
Spider Cakes
Spider cakes and cupcakes are easy to make. The body of the spider is a blob of icing, and the legs can be piped icing or thin pieces of candy such as black string licorice. For a more elaborate look, ice the cake first with dark buttercream and pipe a white cobweb on top before adding the spider.
Colorful Leaves
Colorful autumn leaves in fondant, gum paste, or marzipan are perfect for a casual Halloween or autumn cake. Add pumpkins, acorns, or other autumn accents if desired, or go for a more traditional look with buttercream roses in fall colors.
Airbrushing
Airbrushed autumn colors add fall flair to cakes and cupcakes for Halloween. Brown, orange, red, and yellow are the most popular shades, and use autumn print or gold metallic wrappers for an even more festive touch. To give the cupcakes more Halloween flair, press a candy pumpkin or piece of candy corn into the top of each one.
Grave Cakes
Miniature tombstone, coffin, or grave cakes are a scary but sweet dessert for Halloween. Customize the cakes by writing names or initials on the candy or marshmallow headstones, or add candy bones coming out of the graves for a creepy accent.
Whimsical Pumpkin
Not all Halloween cakes need to be scary. A fun jack-o-lantern with a smiling face is a great accent for a cake or cupcake; add edible glitter for a bit of extra sparkle.
Halloween Birthday Cake
Decorate a Halloween birthday cake with seasonal candy and colorful sprinkles for a simple but delicious look. To customize the cake even further, use the recipient's favorite candies for decoration and tint the interior icing a fun shade of Halloween orange.
Drip Cake
A dripped glaze adds a spooky effect to any cake, no matter what the season. For more Halloween flair, drip rich red glaze over a white or chocolate frosted cake to simulate blood, or opt for a red velvet cake that will be shockingly red when cut.
Go Nuts
If you want to prepare a seasonal cake for Halloween but prefer more subtle decorations, opt for natural treats like toasted nuts and let the sides of the cake remain free from icing for a more sophisticated but easy look. Whether you want an apple spice, pumpkin, or carrot cake, this type of look is always elegant.
Cake Costumes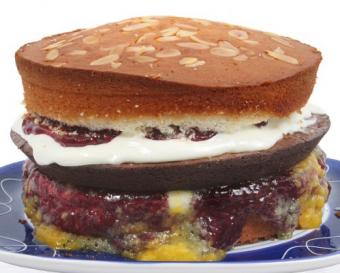 Give your cake a costume by decorating it to look like a different type of food. You can create a hamburger cake with round white cakes for buns (topped with toasted almond "sesame" seeds), a round brownie for the meat patty, interior icing as mayonnaise, and fruit jellies for ketchup, mustard, and relish.
Looking for more unique cake decorating ideas? Check out the
Happy Birthday Cake Pictures
slideshow for fun celebrations all year long.