Pretty Packages
More and more decorators are making fondant birthday cakes instead of traditional buttercream ones. Besides looking cleaner, fondant allows you more creative opportunities. Decorations including flowers, leaves and even animals are easier to create with fondant.
Fondant birthday cakes such as this one "wrapped" in a pink ribbon is perfect for just about anyone's celebration. Just add some colorful candies and you have a fun and festive confection!
Flower Power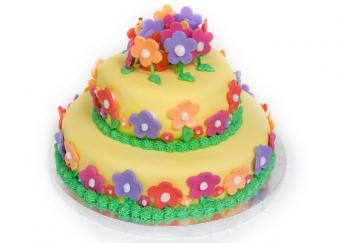 A tiered cake with fondant flowers makes the perfect addition to any girl's birthday celebration. Besides being fairly easy to decorate, this style of cake is not only fun but beautiful too!
A Rose By Any Other Name...
Perk up a plain birthday cake with some colorful gum paste roses. There's nothing more elegant for that special lady in your life.
For the Birthday Princess
A fondant covered round cake decorated with a pretty princess is perfect for any young lady's birthday. You can easily outline a pattern or transfer of a picture of a princess for this cake, or if you are creative enough, draw it freehand. Use various colors of fondant to emphasize the details of the princess.
Winter Wonderland
White fondant makes the perfect background for a winter birthday cake. Use thin icing to make the snowflakes, as well as the snowman, and airbrush a little "ice" as well.
Animal Fun
For the animal-lover in your life, create a cute giraffe cake out of fondant. Cut out different size pieces of fondant for its spots.
First Birthday Celebration
Everyone knows a baby's first birthday is a huge milestone. Why not commemorate the occasion with this eclectic, yet colorful, tiered cake? What child wouldn't love this one!
Clowning Around
Fondant figures, such as this clown, add color and character to plain birthday cakes. Use different size fondant cutters to make the stars.
A Child's Favorite
Recreating your child's favorite television or toy character can be done using fondant. Even if the figures aren't perfect, your child will still love it.
Fondant Birthday Cupcakes
Fondant covered cupcakes are a good alternative at birthday parties. Each one can be decorated to match the children's personalities.
View the slideshows
Novelty Birthday Cakes
and
Happy Birthday Cake Pictures
for more birthday cake decorating ideas.