Celebrating Dad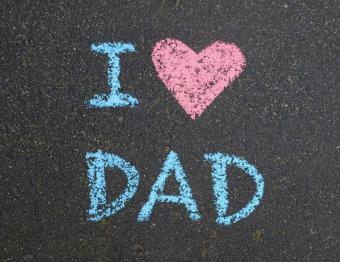 As you plan dinner for Dad on his special day, don't forget dessert: a Father's Day cake he will love. Whether it's homemade or from the local bakery, this cake is a great way to celebrate and honor your father. Choose from a traditional white or chocolate cake, or think a little outside of the box.
The cake should be a reflection of your father's life whether it be topped with his favorite sports team's insignia or designed to resemble his favorite hobby. This gallery of Father's Day cakes should give you an idea or two on how to decorate your dad's cake this June.
Basketball Fan
It doesn't matter if your dad is a Lakers fan or would rather cheer for the Bulls, a cake designed to look like a basketball will surely win him over. Simply cover a double-layer with orange frosting or fondant and pipe on the black lines. Add a few yellow fondant stars and the sentiment and you are done!
A Little Love
Send Dad a little love on Father's Day with a heart-shaped cheesecake topped with a fruit filling such as strawberry or raspberry. A large cookie cutter can help with the shape of the cake if you are looking to make a small one, but also check out heart-shaped spring pans too.
I Heart Football
It's hard to imagine football in June, but if your father just loves this sport, create a batch of cupcakes topped with white fondant and footballs. Create the footballs by rolling fondant or gum paste and pipe on the strings with white frosting or gel. Leftover mini chocolate Easter eggs can serve as footballs too.
Homemade with Love
If you have one or more little helpers in the kitchen when baking your Father's Day confection, try making a batch of simple cupcakes and spell out "Dad" with some sugar icing decorations. Your children will love that they can help!
Soccer Dad
If the father in your life plays or coaches soccer, a cake resembling a soccer ball will work! After baking a simple double-layer round cake, take some more batter and bake it in a glass or other oven-safe bowl. When done, remove and cut one side flat while rounding out the rest. Turn upside down and place in center of cake. Decorate it easily with buttercream frosting or fondant to look like a soccer ball. The rest of the "soccer field" can frosted in chocolate to resemble dirt.
Golf Anyone?
Your favorite craft or hobby store will have chocolate golf ball molds available to use in creating a golf ball cake. Simply create any cake you like and pop a few white chocolate golf ball candies on top.
Miniature Golf
Design a simple golf-lovers cupcake for your dad. Color some buttercream frosting green and top with a dot of white icing for the golf ball. Cut small flags out of construction paper and affix them to toothpicks.
Expectant Father
Surprise the dad-to-be with some cute cupcakes topped with baby rattles, booties or other related items. Just because his son or daughter isn't here yet, doesn't mean he shouldn't be honored!
Happy Father's Day Cakes
It really doesn't matter what the cake or cupcakes look like as long as they are made -- or purchased -- with love. Need some more ideas? Check out these slideshows for more fun and creative cake designs: