Festive Fall Cake Designs
There are many beautiful fall cake designs to choose from, no matter what occasion you may be celebrating with a delicious autumn dessert. A classic round cake with buttercream icing, for example, can be festively decorated with fondant leaves in fall colors and accented with marzipan pumpkins and yellow buttercream edging for a casual fall party cake.
Chocolate Elegance
Leaves are a popular design theme for fall cakes, and thin chocolate leaves can be piled onto a dark chocolate cake for a decadent and delicious design. Using just one leaf shape will keep the cake from looking too cluttered, and you can add one or two chocolate truffles or other bits of color to the cake for a highlight.
Wedding Cakes
Fall wedding cakes decorated with leaves look both elegant and seasonal. For a simple design, create a tiered fondant cake with ribbons in the wedding colors decorating the base of each layer, then drape chocolate leaves and vines down the side of the cake to connect each section.
Fall Fruits
A fall rum and fruit cake needs no additional decoration other than to see the colorful fruits on its surface. If you do want a more elaborate look, however, add a simple glaze topped with sugared fruits for a touch of sweetness.
Autumn Wedding
Use beautiful fall colors to decorate autumn wedding cakes. Different ribbons in fall hues can wrap around the tiers of a simple cake, and a garland of fall blooms can cascade down the side of the cake. For a coordinated topper, leave a knot at one end of the garland pinned to the cake's top tier.
Chocolate Shavings
Thin chocolate shavings in a tight spiral give the illusion of crinkled leaf edges for an elegant accent to a personal fondant fudge cake or chocolate petit fours. Carve the chocolate shavings carefully to keep the spiral from breaking, and keep the cakes chilled before serving so the spirals don't "wilt."
Single Leaf
A single chocolate leaf can add a touch of fall to any individual cake. A mousse cake is the perfect choice, and leave the sides of the cake clear to show the different colors and layers that coordinate with the fall theme. Adding a berry or two to the top of the cake can give it a touch of fall color as well.
Fall Flowers
Fresh flowers in fall shades of orange, crimson, and sage can be used to decorate many types of cakes, and they're particularly popular for fall wedding cakes. Use the largest bundle of flowers for the cake topper, then add smaller bundles or individual blooms randomly nestled at the base of each tier for a coordinated design.
Chocolate Fudge
All fall colors, including browns, yellows, and oranges, are popular when you're creating fall cake designs. Individual fudge cakes can be enrobed in chocolate sprinkles and topped with abstract decorations reminiscent of rare flowers or fallen leaves for a chic, modern touch.
Halloween Birthday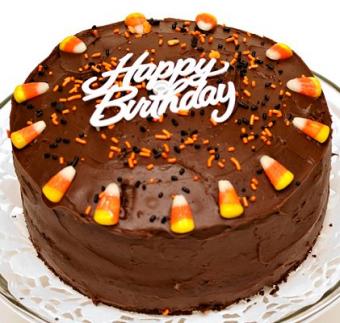 Halloween cakes are fun and easy to decorate, and a Halloween birthday cake is a colorful fall design that can include brown and orange sprinkles and symmetrical candy corn accents. Creating spider webs out of icing or using fully themed shaped cakes like coffins, tombstones, or black cats is also popular.
Cake Flavors
When creating fall cake designs, don't neglect the flavors of the cake. Rich, spicy tastes such as cinnamon, carrot, apple, and spice are popular for fall cakes, and their rich colors are beautiful when the cake is cut.
Touch of Orange
Spice cakes are popular in the fall, and adding a pale buttercream frosting and poppy seeds gives the cake a rustic look suitable for the season. Add a thin curl of orange peel for a burst of color that also coordinates with the cake's taste and design.
Chocolate Cakes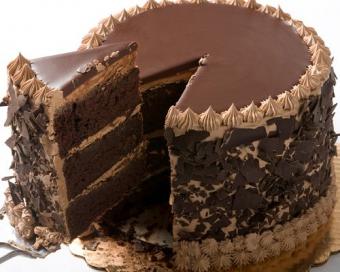 The rich, brown hue of a chocolate cake is perfect for many fall cake designs. Layer the cake with chocolate mousse filling and add a finishing layer of smooth fudge for a sophisticated and decadent dessert. Chocolate shavings around the edge also add not only to the taste, but also to the rustic appeal of the design.
Bundt Cakes
A bundt cake is a simple design perfect for fall spice cakes and moist cream cakes. While the classic curves of the bundt cake are decoration enough for a casual cake, you might add glaze and chopped or sliced nuts for a more festive but still easy to create cake.
Caramel Cake
The rich texture of rows of buttercream rosettes gives a fall cake extra flair, particularly when you are decorating a cream cake that you plan to drizzle with fresh caramel or butterscotch sauce. This is a sweet and classic cake sure to brighten any fall table.
Want to get inspired for more seasonal cakes? Check out…