Figuring out Elmo cake decorating is imperative if you want to create a cake that looks like you or your child's favorite Sesame Street character. Luckily, you have several options when it comes to creating the fuzzy puppet's likeness in buttercream frosting.
Elmo Character Cake
Using a shaped character cake pan is one of the easiest ways to create a decorated Elmo cake. Make a cute cake using a pan in the shape of Elmo's face. The pan should come with a supply list and cake decorating instructions, or you can follow the directions listed below.
Supplies
Elmo face cake pan
Large batch of red buttercream frosting
Large batch of buttercream frosting, divided into the following colors:
Pastry bags
Couplers
Size 21 tip
Size 12 tip
Spatula
Thick paper towels without pattern/impression
Instructions
Bake a 9x13 size cake in the Elmo face pan according to recipe or box directions.
After cooling ten minutes, flip the cake out of the pan and allow to cool completely (usually around one to two hours total).
Optional: Crumb coat the cake. Crumb coating does help the rest of the frosting adhere better, but might also cover up some of the indicators for decorating.
Spread white buttercream frosting on Elmo's eyes and smooth with a spatula. Use a paper towel to give the eyes a nice finish.
Fill in the center of the eyes with black buttercream frosting. Attach a coupler with tip 12 to a pastry bag and fill with black frosting. Make a circle around the black portion of the eye, and then fill in. Again, lightly pat smooth with a paper towel.
Continue using the round tip 12 and black buttercream, follow the lines for the mouth and fill in, using the paper towel technique for a smooth look.
Clean tip 12 and attach with a coupler to another pastry bag. Fill this bag with orange buttercream.
Draw around Elmo's nose and fill in with pastry bag and tip or spatula. Use a spatula or paper towel technique to smooth out the frosting.
Attach a coupler and tip 21 to a large pastry bag. Fill with red buttercream. Make drop stars around the entire cake until covered.
Modify the directions listed above to suit your decorating skills. For example, you could cut fondant pieces for the eyes, nose and mouth. You might also want to consider using mini chocolate sandwich cookies for the pupil part of the eyes. Alternatively, you could use other tips for Elmo's fur, giving the cake an entirely different look.
More Elmo Cake Decorating Ideas
Of course, you can make cakes that have a decorated Elmo theme without using a shaped pan. Try one of the ideas listed below to make Elmo cake decorating easy.
Decorating Kits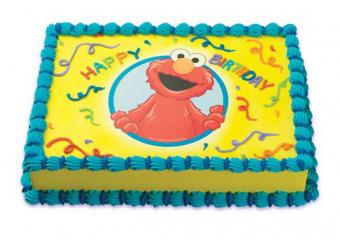 Purchase cake decorating supplies with an Elmo theme to make decorating a cinch. Consider one of the following kits, available for purchase on Amazon.com:
Elmo Cakes - 1 Do-It-Yourself Edible Cake Art is an image of Elmo celebrating with his hands in the air, throwing confetti. The only thing you have to do is peel the image off, place on cake and smooth.
Sesame Street Pop-Up Cake Kit: Pick up this kit as an easy way to include Elmo and his friends on your child's birthday cake. It features a large Elmo in the center with Bert, Ernie, Cookie Monster and more friends in front of a large gift.
Elmo and Abby Playground Cake Decorating Kit: Elmo and Abby play together in the park, making a cute cake topper for you to accent with colored icing.
Easy Elmo Cake Designs
Design fun cakes using Elmo as the main figure by trying one of these simple, easy decorating ideas:
Cover the cake in white fondant or buttercream and then use various colors to pip "Elmo's World" lettering onto the cake.
Make white fondant and cover your cake. Then make red fondant and roll it out. Use Elmo cookie cutters to cut shapes and then layer on top of the white base in a haphazard design.
Wash your children's small, non-toxic Elmo toys and place on top of the cake. Use a small piece of parchment cut to fit their bottom so they do not touch the frosting. Be sure to remove them before serving.
Exceptional artists could also freehand an Elmo design and then use a piping gel transfer or toothpick transfer to place it on the cake.
Elmo cake decorating ideas are virtually endless. Whether you use a character pan, kit or come up with your own easy design, children are sure to be delighted when they see their favorite character in cake and frosting.