Festive Easter Bunny Cake Ideas
Easter bunny cake ideas aren't limited to coconut-covered bunny face sheet cakes. Instead, try making a new bunny cake for this year's dessert after all of the egg hunts are finished.
Make a bunny in a shaped pan and have the backside face the wall so no one realizes only half the bunny is there. Use piped buttercream icing to make the bunny's fur fluffy.
Individual Easter Cakes
Use a bunny cookie cutter to create individual cakes out of a thin sheet cake. Outline the Easter bunnies and then fill in the egg with royal icing. Add a few candy decorations to complete the cake.
3D Bunny Cake
A 3D cake pan creates a stunning centerpiece for Easter. This bunny, holding an Easter egg, is perfect for placing in the center of your dessert table. Decorate with simple powered sugar, or cover in fondant, molding it to the shape of the cake. Add piped design elements after covering.
Carrot Cake
Entice the bunny to come to you with this fun and delicious cake idea. Make a carrot cake and decorate with small gum paste or buttercream carrots on each slice. Place a plastic or decorative bunny in the center. Remove before serving.
Bunny Sprinkles
Sprinkles are perfect for kids' cakes. Use them sparingly around the edge of the top, cover the sides of a round cake in them, or even make a bunny face out of the bunny sprinkles on top of a rectangular sheet cake.
Blue Bunny Cake
Royal icing is on top of this individual gingerbread cake. Just because it is Spring or Easter does not mean you cannot use your favorite recipe. Add a few dragées in gold for an elegant look.
Bunny Cookie Design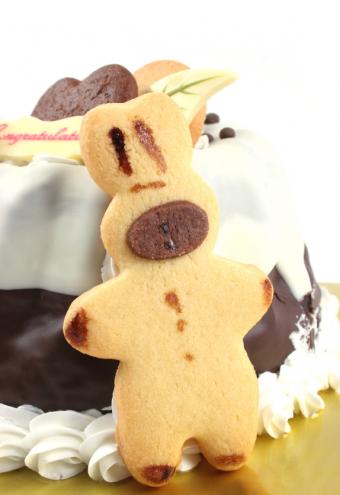 Cookies are a fun and easy piece to add to any cake, but especially an Easter cake. Make cookies for the kids and then add a few to a chocolate cream cake for the adults at your Easter day gathering.
More Easter Bunny Cake Designs