Classic Balloons
Children's cake designs are bright, colorful, and fun. From classic easy shapes and colors to more outrageously decorated cakes, these kid-friendly desserts are sure to be a hit at any party.
The classic children's cake motif is a balloon bundle. Added to a simple round cake, this leaves room for a greeting or other personalization in icing or fondant.
Princess Cake
Every girl will feel like a princess when she has her own fairy tale castle cake to taste. Multiple tiers, fondant icing, and edible accents make these designs more challenging, but simple designs can also be crafted from buttercream icing and ice cream cones covered in frosting and sprinkles. Tint the icing pink or decorate the cake with ribbons for an extra fairy tale touch.
Jungle Cake
Kids love animals, and they'll love a jungle cake with edible animal designs. Add multiple animals to a jungle scene cake, complete with a lagoon, palm trees, and other landscaping. Create a single animal from a specialized mold, or by cutting cakes in the right shape.
Train Cake
Trains are popular with little boys, and every little boy will love his very own train cake decorated with buttercream rosettes. Other train designs include a candy-decorated locomotive with cookies for wheels, or a sheet cake with a train scene or toy train on top.
Tasty Presents
A tiered square cake decorated as a stack of gifts is perfect for a formal children's party. Use fondant icing to create the cascading ribbon, or use a real ribbon as a cake topper. Decorate the individual packages with dots, flowers, or initials for more personalization.
Fish Cupcakes
Cupcakes are easy to decorate and they're a kid-friendly size. Opt for icing mixed with coarse sugar for a textured effect, and dye the icing a rich blue for these sea life cupcakes topped with candy fish, starfish, and other sea creatures.
Puppy Cake
This Dalmation puppy cake is perfect for a dog lover or to celebrate watching Disney's 101 Dalmations. Cut the basic cake shape from a sheet cake using a stencil, and then fill the design in with buttercream rosettes. Outline the design first, then fill in the larger areas, or frost the entire cake white and use rosettes or piped icing just for the outline and details.
Ice Cream Cakes
An ice cream cake is a great dessert for a hot summer day. Use a chocolate graham or crushed cookie crust topped with different layers of favorite ice creams, and top the cake with sprinkles, crushed cookies, or candies for an instant kid-pleaser.
Funky Frog
Make this funky frog cake from a large mold or smaller cupcakes for individual servings. Cut a wedge from the cake for the mouth, and add a dollop of icing for the frog's tongue. For even more fun, top the tongue with a candy bug!
Racing Cake
Every parent says his/her kids grow up too fast, and this racing cake matches that theme. Fondant icing provides a smooth track for the small cake, and fondant cars can be shaped as accents. For a larger cake, consider using real toy cars as accents and party favors.
Baseball Cake
A sports lover will appreciate this decorated baseball cake with simple white buttercream icing and red stitching. For a bigger challenge, create a dome cake to decorate as a ball. Other sport cakes can also be created in the shapes and designs of different balls, such as a football, basketball, or soccer cake.
Totally Turtles
Turtles fascinate kids, and a simple turtle cake can make a birthday or party memorable. Cut flippers and head shapes out to create a three-dimensional cake, and frost with buttercream icing in a shell texture for more realism.
Clown Cakes
Clowns can be a fun and happy part of childhood, and many children's cake designs incorporate clowns. A dome cake can be frosted as a clown's head, complete with a bright red nose, wide smile, and colorful hair, or you can opt for a sheet cake design with three dimensional clowns or clown toy accents to create a fun circus scene.
Bug Cakes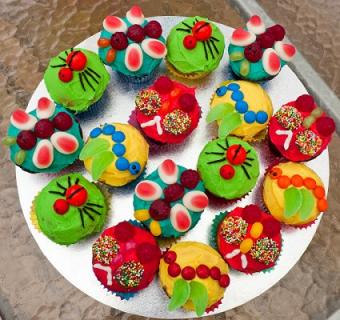 Insect decorated cupcakes are fun to make and to eat. Use different candies to create butterflies, caterpillars, spiders, and other insects, giving kids different options to taste or to make their own bug cupcake designs.
Fun Cakes
No matter what children's cake designs you choose, from simple colorful cakes to more elaborate, tiered desserts, remember whom the cake is for: a child. Bright colors and a fun design will always be popular!
For more great cake design ideas, check out the
Fondant Cake Designs
slideshow and this
Gallery of Cake Designs
for inspiration.