A ladybug cupcake cake is a fitting dessert to celebrate spring or serve at any potluck, casual party, or kid's birthday celebration. It's colorful without being garish, simple to prepare and serve, and requires…
Keep reading »
Browse Topics in Cupcake Ideas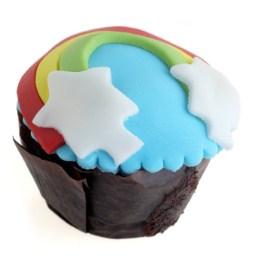 Cupcakes are more than just small cakes; when done correctly they can be individual masterpieces. LoveToKnow Cake Decorating has the information and ideas you need to make your own cupcake creations.
Cupcakes for Occasions
Cupcakes are perfect for any occasion from large to small. Get the inspiration you need to decorate your cupcakes for holidays and occasions such as:
Useful Decorating Supplies
Cupcakes have specific needs and supplies that can be different from those used on cakes. Learn where to get supplies such as:
Wrappers: The wrapper is an integral part of many cupcakes. Get information on printing your own designs, or where to get them for a discount.
Displays: Cupcakes may be individual, but they need a way to bring them together and show them off to their best advantage. Learn about the various stands and displays available for use.
Decorations: From sprinkles to toppers, the decorations are often what sets a cupcake apart. Get the information you need on the types of decorations available to you.
Start Baking
With the information and ideas available to you on LoveToKnow Cake Decorating, you'll have no trouble getting inspired to whip up a batch of cupcakes. Take a look at some of the ideas available and start baking.