Gourmet Butterflies
Butterfly cupcakes are a popular choice for spring and summer garden parties, teas, weddings, and other special treats. While elaborate, highly detailed butterflies can look very realistic, it takes years of practice and highly evolved skills to craft these intricate cupcake decorations. Fortunately, there are many simple butterfly designs you can use to decorate cupcakes for any occasion.
Sugar Butterfly
The simplest way to add a butterfly to a cupcake is to find preformed sugar butterflies or butterfly-shaped candy. Coordinate the colors of the candy with the icing on your cupcakes for a lovely look that will be delicious as it is beautiful, or opt for contrasts for a more startling, bold butterfly. You can even decorate the cupcake to look like a flower the butterfly has come to rest on.
Craft Butterflies
If you want to decorate butterfly cupcakes in a hurry, check craft stores for small butterfly trinkets. Lace or organza butterflies are a delicate and magical option, and crystal accents add a lovely touch for special occasion cupcakes with elegant fondant icing. Crafty cake decorators may even want to create their own custom crystal butterflies to use as cupcake decorations.
Nuts for Butterflies
A simple and homey butterfly design is easy to make with icing and long nuts. Ice the top of the cupcake with a lobed wing pattern, then press a glazed or candied nut into the center to form the butterfly's body. Pecans, almonds, and walnuts work best for this design, and choosing a spice cake, carrot cake, or almond torte cake will make the treat especially delicious.
Edible Glitter
A thin, delicate butterfly is perfect for a spring or Easter cupcake. Choose pastel or light colored icing and a white, simple butterfly, perhaps topped with edible glitter for subtle sparkle. You can even make molded white chocolate butterflies for an especially delicious treat.
Filled Cupcakes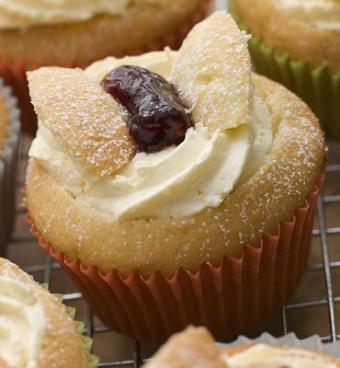 Design filled pastry cupcakes with an easy butterfly motif. Carefully cut away the top of the cupcake (a pastry-style cupcake or cream puff works best) and cut the top in half to create the butterfly's wings. Fill the center of the cupcake with a light icing and reposition the wings appropriately on top, then add contrasting icing, a nut, or a piece of candy for the butterfly's body. Top the whole treat with coarse sugar or edible glitter for a more magical appeal.
Outlined Butterflies
If you're handy with icing applicators, it can be easy to draw a butterfly on top of a cupcake. Start with the butterfly's body, then add the lobed wings and be sure they are balanced evenly on the top of the cake. Add extra swirls or dots of icing inside the wings for more detail, and consider a small flower accent to accompany the butterfly.
Contrasting Decorations
For a simple butterfly design, opt for small sugar butterflies or molded chocolate butterflies on top of cupcakes with contrasting icing. A white butterfly stands out beautifully on top of a rich dark chocolate icing, while a darker butterfly would look best on white vanilla icing.
Toy Butterflies
For a children's garden party, toy butterflies make fun cupcake decorations. Plastic party favor rings often come in butterfly designs, and a ring can easily be inserted into the cupcake's icing as the finishing touch. Candy sprinkles are also popular with kids and will add more color and fun to the cupcake design.
Simple Butterflies
A simple butterfly design anyone can do is to insert two small cookies or round candies into a blob of icing on the cupcake. Small circular melting chocolate bits are the perfect size and shape to create these modern butterfly designs, and they are available from specialty baking stores in a wide variety of colors to match any party theme.
Gummi Butterfly
Gummi candies are always popular with kids, and their colorful shades add a burst of fun to your butterfly cupcakes. A gummi worm makes an easy butterfly body, and use flattened gumdrops for wings. Small bits of candy can form antennae, or use different types of candies to create unique butterfly shapes on each cupcake.
Decorate Your Own
Kids will love to decorate their own butterfly cupcakes with shaped candies, sprinkles, and colored icing. For a fun party activity, don't worry about decorating the cupcakes yourself – instead, let eager hands help out to make their own designs.
Check out these
fun cupcake ideas
for more inspiration to turn these small cakes into dazzling treats!