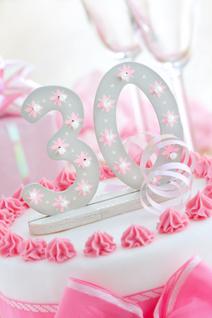 If you are looking for 30th birthday cake ideas, try one of six design ideas you can make work for nearly anyone.
Turning 30
It's no secret that turning 30 is a milestone in a person's life. Some people embrace it, while other people feel like they are stepping out of youth into middle age. Still, the occasion deserves to be marked with a 30th birthday celebration, and the following 30th birthday cake ideas will help you create a cake that suits people at both ends of the spectrum or somewhere in between.
Six 30th Birthday Cake Ideas
Star Cake
This is a simple birthday cake design you can apply to any size cake. Roll out several different colors of fondant. Using star-shaped cookie cutters of varying sizes, cut out a total of 30 stars to represent each year of the birthday honoree's life. Make one large, main star and place a single birthday candle on it. The remaining stars should be placed all over the rest of the cake in a pleasing arrangement. A design like this can be a good fit for someone who is somewhat sensitive about turning 30 years old.
Number Cake
If the prospect of lighting 30 candles on a cake feels more like setting a torch to a bonfire, a number cake might be a better way to mark the occasion. This design acknowledges the birthday in a straightforward way, yet it's still more subtle than a grove of candles. Carve numerals three and zero out of a single or double-layer sheet cake. Arrange them side-by-side on a cake board, and then frost and decorate them.
Fine Wine Cake
If the birthday guy or gal is less sensitive about celebrating the big 3-0, you can have a little more fun with the happy birthday cake design. Here's a great suggestion for someone who appreciates wine. Create grape leaves and grapes out of fondant. Pipe vines on the cake and attach your fondant pieces in an attractive design. Pipe the following phrase on the cake: "You're not getting older, you're getting better with age. Happy 30th Birthday!" Fill a wine glass 1/3 full with the honoree's favorite type of wine and use it as a cake topper.
Treasure Chest Cake
Another way to keep a positive spin on turning 30 is to design a treasure chest birthday cake. This cake design highlights the birthday person's accomplishments so far in life, but it does require a bit of skill to create.
You'll need to make a rectangular cake that is at least two to three layers thick for the base of the chest. Ice it, and then cover it in chocolate rolled fondant. Lightly score the fondant to look like wooden planks so it resembles a real treasure chest.
Use fondant or modeling chocolate to make treasures that represent some of the good things that have happened in the honoree's life so far. For example, you could create a diploma to represent earning a college degree. You might add two doves sitting together to represent the honoree's relationship or marriage. If the birthday person has any children, you could incorporate small figures of them into the design. Arrange the treasures you create on the top of the box to make it look full. Write "Happy 30th Birthday!" on the front side of the chest, and fill in any open areas on top with coins made from fondant to finish the design. The key is to really know the person you're designing the cake for and make sure there is a good selection of "treasures" to fill out the design of the cake.
Clock Cake
If the birthday honoree has a good sense of humor, you might want to consider making a clock cake. Clocks come in many shapes, so feel free to use round, square or rectangular pans to bake your cake layers. The key elements you'll need to incorporate on the cake are a clock face with numbers and hands, as well as the phrase "Happy 30th! Time to start lying about your age!"
Twenty-Nine Again
You can design the birthday cake anyway you want. All you have to do is pipe on the phrase "Happy Birthday! 29 for the second time!"
Theme to Suit the Birthday Honoree
No matter which 30th birthday cake idea you ultimately decide to create, make sure the cake suits the person you're making it for. An over the hill cake design might seem funny to the other party guests, but you should really think about whether or not the birthday guy or gal will appreciate that kind of humor. In the end, it's important that everyone laughs with, not at, the guest of honor.