Smashing 1st Birthday Cakes
A child's 1st birthday cake design is something many parents agonize over before choosing the final cake that ends up in so many memorable photos. Whether you choose a simple design or one that is fit for the birthday prince or princess, it is sure to delight your child. At a child's party, the cake often ends up being cupcakes, because they are perfectly sized individual portions.
Smash cakes are popular designs with basic decorations, if any. A relatively new trend in 1st birthday parties, the smash cake is baked just for the child, who often creates quite the mess!
1st Birthday Candles
Candles are the main element in many children's birthday cakes. Choose one with a decorative addition, like the elephant on the left, which eliminates the need for fancy decorations.
Carousel
Create a carousel cake with a few simple items. Wilton makes several sets you can use to decorate in minutes.
Wild 1st Birthday Cake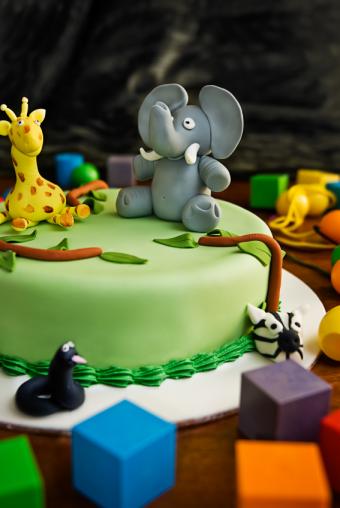 Jungle, safari and zoo animals are popular 1st birthday cake designs for a small child. Use sculpting fondant or modeling chocolate to create the small figures for the cake. If you are short on time or skills, consider purchasing food-safe figures to place on top of a cake that you decorated using a jungle scene.
Character Cakes
Add some festive characters to a themed birthday cake to make the 1st birthday special. Whether you choose to make a cake using a licensed character cake pan, such as Elmo, or make generic characters, like clowns or cowboys, the themed cake is a wonderful choice for a birthday party.
Prince or Princess Cake
A little prince or princess party is perfect for a 1st birthday. Watch your child's eyes light up when he or she sees a magnificent castle cake like the one on the left. This topsy-turvy cake requires expert skill, so it may be best to hire a professional if you are a novice decorator.
Simple Decor
It can be tempting to think of elaborate 1st birthday cake ideas, but keep in mind that children at this age will be fine with something simple, such as an image of a present atop the cake.
Pretty Present
If you'd like to be a bit more artsy with the present idea, consider shaping the entire cake like a present and topping it with fondant ribbon and gum paste flowers.
Sweet Slice
Serve up a slice of fun using a number 1 candle on a single slice of cake. This is a less costly and less laborious way to give a child a piece of cake without risking him or her smashing it. Just because some people enjoy doing a smash cake doesn't mean everyone likes it. By slicing the cake and giving it to the birthday child first, you ensure the rest of the cake stays intact for other guests without having to make or buy a second cake just for smashing.
Rainbow Birthday Cake
Vibrant rainbow designs are an excellent way to decorate a cake or cupcake for a 1st birthday party in the springtime. Use a piping gel transfer and fill in the rainbow pattern with drop stars on a sheet cake, or make fondant cutouts of each color and attach to cakes or cupcakes using cake adhesive.
Fondant Number 1 Cupcakes
Even if you give your little one a cupcake with a number 1 candle, you still need to decorate cupcakes for guests. Use a cookie cutter to make the number 1 and add polka dots for decoration. Allow it to dry overnight so it is stiff enough to stand in fluffy buttercream icing during the party.
Cute Cupcakes
Go with cupcakes, so everyone will get their own. If you have some older children at the party, they may even enjoy decorating them.
Teddy Bear
What one year old doesn't love teddy bears? You can easily make this design just by using a shaped cake pan and a few frosting tips.
More 1st Birthday Cake Designs
Of course, not every 1st birthday cake design has to be extravagant. Sometimes, a simple cake with the words "happy birthday" will mark the occasion perfectly. Find more birthday cake ideas in theses LoveToKnow articles: