Homemade Cupcake Wrappers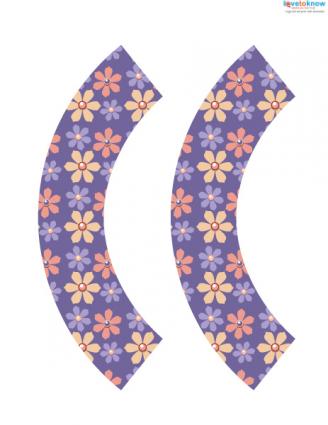 Instead of buying expensive wrappers that end up in the garbage once your party guests dig into their cupcakes, use homemade wrappers that will create a festive display while saving you money. A wrapper can be made to match almost any occasion or theme.
Free Printable Wrappers
Download and print the wrappers above and below using Adobe Reader. They are meant to be wrapped around baked and cooled cupcakes in liners. Each printable features two wrappers. To wrap cupcakes, position the curved end on one side at the base of the cupcake, carefully meet ends in the back, and secure with tape. These wrappers will fit standard-sized cupcakes.
Castle Cupcake Wrappers
If you're throwing a princess, knight, or fairytale themed party, these wrappers will make your dessert table fit in perfectly.
Puppy and Kitten Cupcake Wrappers
Whether you're hosting a party for your pets, a fundraiser for a shelter, or a themed kid's birthday party, the wrappers featuring these furry friends will add to your overall theme.
DIY Cupcake Wrappers
Creating your own cupcake wrappers is easy when you work with a template. Download the template to the right. Use it in conjunction with your design programs and clip art to create wrappers on your computer.
If you don't have the right program or tech skills to use the templates in a graphics design program, consider these easy DIY alternatives:
Print the wrappers directly onto 8.5x11-inch scrapbooking paper to create themed wrappers.
Have kids draw and color pictures on the wrappers to create personalized treats to take to friends and family.
Use stamps, glitter, and other craft supplies to make a creative design.
Cut the blank wrappers out and trace around them on the back of wrapping paper, newspaper, or even photographs to create customized wrappers.
Use scalloped scrapbooking scissors to cut the top edge out and create an elegant or trendy edge.
Place templates on doilies or stiff lace and trace to create fancy wrappers for weddings or anniversaries.
Themed Homemade Wrappers Online
When you're looking for a certain theme to fit your particular party, it's hard to know where to look. Check out these festive themes and wrappers that you can find on other reputable websites.
Disney Cupcake Wrappers
Nothing says Disney like Mickey Mouse. Make a fun wrapper for Mickey-themed cupcakes using red, yellow, and black construction paper and the templates and instructions found at Our Homemade Life.
Try one of these movie-based wrapper options as well:
Brave - Princess Merida is featured front and center on the fun printables at The Party Animal. Scroll below the supplies list and first set of photos to find the link in purple hypertext. You'll also find decorating instructions for the cupcakes on the website.
Frozen - The free kit from Homeketeers has two sets of cupcake wrappers. One set features stunning snow scenes while the other highlights main characters like Elsa and Anna.
Beauty and the Beast - Pick up free printable wrappers that look like replicas of Belle's yellow ball gown from Oh My Fiesta! The printable also features Belle's hairstyle to tape onto a toothpick as a topper.
Holiday Cupcake Wrappers
Save money during the often-expensive holiday seasons by using these wrappers:
Follow the step-by-step instructions at Hoosier Homemade to make pleated wrappers out of card stock for Christmas.
Red and white or pink and white heart-themed wrappers make adorable options for Valentine's Day. Get them for free at Chicabug blog.
Food Art Party has five different printable patriotic designs perfect for the 4th of July, Memorial Day, or Labor Day.
Lego Cupcake Wrappers
These Lego-themed wrappers are easier to put together than some of the famous toy brand's projects! Get instructions from these blogs:
Pixeltrashamania has colorful plain wrappers that are cut at the top to resemble Lego pieces. Add your own stickers before wrapping cupcakes and you're finished.
Peonies and Poppyseeds offers a free printable pack for non-commercial/personal use that includes six different Lego wrappers with Lego man heads and sunglasses.
Superhero Cupcake Wrappers
Save the day by utilizing these easy to make wrappers for an upcoming superhero party:
Parties & Patterns occasionally offers their Spiderman wrapper free for download. It is yellow with a character bursting out of the top.
Laura's Crafty Life blog describes how to use a blank template, punches, and her free printable stickers to create a Batman wrapper for cupcakes.
Find plenty of clip art options for comic book superheroes and specific superheroes at Great Kids Birthday Parties! that can also be used in conjunction with plain templates.
Wrappers Do the Decorating for You
You don't need to be an expert decorator to have festive cupcake designs. Simply bake and frost cupcakes and let your wrapper do the decorating for you.